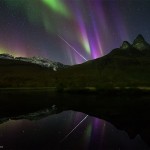 Professor Robert Nemiroff's explanation of the science behind the aurora borealis was the lead story in Wednesday's Great Lakes IT Report and was featured on Science Daily and Phys.Org.
The image credit can be found in the Astronomy Picture of the Day for October 5, 2012.
The Science Behind those Eye-Popping Northern Lights
Read more at Michigan Tech News, by Marcia Goodrich.