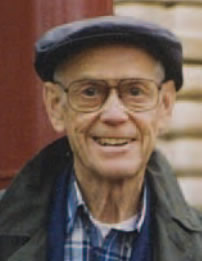 Paul Revere Hinzmann, professor emeritus of physics, died on Nov. 30, at the Clark Retirement Home in Grand Rapids, Mich. He was 99 years old.
He was born in Tipton, Mich., and lived in Ohio before attending the Case Institute of Technology (now Case Western Reserve). He attended his 70th reunion there in 2005.
Hinzmann received a master's degree in education from the University of Michigan before beginning his teaching career at Michigan Tech in 1946. He taught until 1977 and was also the University photographer during his tenure at Tech. He was recalled as a patient, caring teacher who loved the enthusiasm of students. After retirement, he was active in the local Boy Scouts chapter, Isle Royale Natural History Association, and Golden Kiwanis.
Paul was preceded in death by his parents and two brothers, Alvin and Wade. He is survived by his wife of 71 years, Elsie (Feigley) Hinzmann and his children, Georgia (Hugh) Makens of Grand Rapids, Mich. and Vincent (Nancy) Hinzmann of Milford, Mich. grandchildren and other family members.
Paul wished his body to be donated to science with the MSU Medical School being the recipient.
Posted December 5, 2012, in Tech Today.
Please feel free to leave comments on your experiences with Paul Hinzmann.