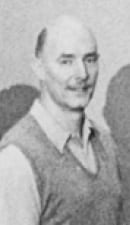 Professor Emeritus Robert H. "Bob" Mount, a longtime member of the physics faculty, passed away July 2 at his home in Hancock. He was 86 years old.
Mount came to Michigan Tech in 1954 from Cleveland Cliffs Iron Co., where he was employed as the chief geologist. He retired from the University in 2000. For much of his career, he taught introductory physics courses. "His 46 years of service is the second-longest in department history—the longest being James Fisher," said physics professor Bryan Suits.
His colleagues remember Mount as health conscious. "His extensive early-morning exercise routine was very important to him," Suits said. "He would retire early so he could get up at 3 or 4 a.m. to do his workout. Hence, he often passed when it came to attending the department's evening events—they were past his bedtime."
Professor Don Beck also remembered his physical fitness—and his motorcycle, which he rode to campus whenever weather permitted. "He was an amiable colleague," said Beck, "and he had an extensive collection of college-level books that he managed to fit into one of our smallest offices."
Mount donated most of that collection to the Society of Physics students upon his retirement. "Fourteen years later, those books are still in the undergrad physics room and are consulted and used on a regular basis, sometimes even by grad students and professors," said Professor Raymond Shaw.
Professor Robert Nemiroff remembers Mount as a cheerful sort, before and after his retirement. "He always seemed in good spirits and had kind words or a humorous story for me, and I would expect for his students as well," he said.
Mount was also an animal lover with a big heart, said Professor Jacek Borysow. "Bob took all the ugliest dogs from the animal shelter and took care of them," he said. "I think there were times when he had something like six dogs, and they all had missing legs, ears or tails, and they were very old."
Mount served in the army at the end of World War II and went on to earn a bachelor's degree from Ohio State University and an MS in Geophysics from Michigan Tech.
Bob is survived by his children, Becky, Nancy, Rob and Jeff (Elyssa), and his grandchildren, Rachel and Gabe. He is also survived by his pets, Peppy, Kitsalee, Linky and Mama, his devoted and adoring lap cat.
Mount's body will be cremated, and no public visitation or service will be held. O'Neill-Dennis Funeral Home is assisting the family with arrangements.
Please feel free to leave comments on your experiences with Bob Mount.