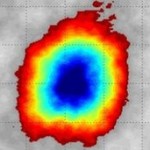 BBC News has reported on the image captured by the High-Altitude Water Cherenkov Observatory or Hawc. This facility now holds the record for the highest-energy light captured. The image shows the shadow cast by the Moon as it blocks light and particles.
Hawc is currently composed of 30 detectors located in a national park near the Mexican city of Puebla.
Assistant professor of physics Petra Huentemeyer, whose background is in astrophysics and elementary particle physics, is involved with the Hawc Observatory.
Read more at BBC News Science & Environment, by Jason Palmer.