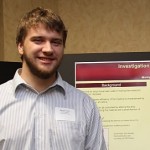 19th Annual Student Leadership Awards Announcements
Congratulations to the following students, student organizations, and advisors for inspiring community, scholarship, possibilities, accountability and tenacity within Michigan Tech as well as our community.
In the Department of Physics, Michael Adler is the 2013 recipient of the Provost Award for Scholarship.
Read more at Tech Today.