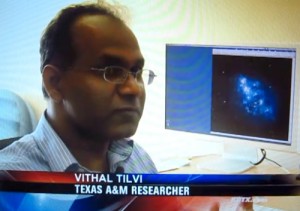 Vithal Tilvi, who graduated in 2006 with an MS in Physics from Michigan Tech, co-authored a paper in Nature on the most distant galaxy as it was 13 billion years ago.
UT, Texas A&M Astronomers Discover Universe's Most Distant Galaxy
The paper's lead author is Steven Finkelstein, an assistant professor at the University of Texas at Austin and 2011 Hubble Fellow who previously was a postdoctoral research associate at Texas A&M under the mentorship of Texas A&M astrophysicist Casey Papovich, who is second author as well as current mentor to Tilvi. Ten other international institutions collaborated on the effort, from California to Massachusetts and Italy to Israel.
On a crisp, clear April night, Tilvi, Finkelstein and his graduate student, Mimi Song, sat behind a panel of computers in the control room of the W.M. Keck Observatory, which is perched atop the summit of Hawaii's dormant Mauna Kea volcano and houses the two largest optical and infrared telescopes in the world, each standing eight stories tall, weighing 300 tons and equipped with 10-meter-wide mirrors.
They detected only one galaxy during their two nights of observation at Keck, but it turned out to be the most distant ever confirmed.
Read more at Science, Texas A&M University. Watch the video of the interview with Tilvi.