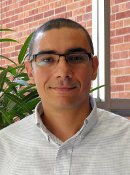 Ramy El-Ganainy, PhD
Ramy El-Ganainy joins the Department of Physics as assistant professor. He comes to Michigan Tech from the University of Toronto, where he was a postdoctoral fellow in the Department of Physics.
El-Ganainy received his PhD in Optics and Photonics and MS in Optics from the College of Optics and Photonics at the University of Central Florida. He also received an MS in Electromagnetics and BS in Electronics and Communication Engineering from Cairo University.
El-Ganainy's work has been published in Optics Express, New Journal of Physics and International Journal of Theoretical Physics. He is a member of the Optical Society, International Society of Optics and Photonics and Institute of Electrical and Electronics Engineers. His research experience includes theory and applications of non-Hermitian optics, quantum effects inside photonic crystal structures and optical nonlinearities in interaction nano-suspensions.
Read more at Tech Today.