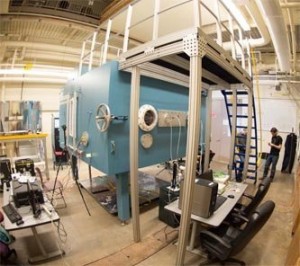 Atmospheric science researchers at Michigan Tech no longer have to cross their fingers for cooperative weather—the University's innovative new cloud chamber allows them to head into the lab and make their own.
"You're in an aircraft going a hundred meters a second, and it's impossible to replicate what you've just seen," says fellow physicist Will Cantrell. "You know the old Taoist saying, you never step in the river twice? You never fly through the same cloud twice either."
Read more at Michigan Tech Research Magazine, by Marcia Goodrich.