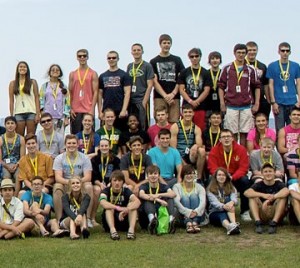 Michigan Tech and the surrounding community are joining together to host the inaugural Keweenaw Science and Engineering Festival to stimulate and sustain interest in science, technology, engineering and math (STEM) in the Keweenaw for all ages. ​This four-day festival is an open forum to showcase all facets of STEM in the Western Upper Peninsula. Current scheduled events have something for all ages and include the Michigan Tech Mind Trekkers, Nerd Night for teens with Tech's Physics Department, the Family Engineering Day, Summer Concert Series, Science Pub Crawl, The Wonders of Physics, science comedian Brian Malow and David Gaynes presenting his documentary Saving Hubble and more! This event is scheduled for August 5 to 8, and most of the activities are free.
See the event calendar on the current schedule. Volunteers are still needed to help with the festival. If you would like to get involved and run a hands-on demonstration, assist with set-up, work the KSEF booth or have questions on how to volunteer contact Amanda McConnon at amcconno@mtu.edu.
From Tech Today, by Center for Pre-College Outreach.
Sun, sand, science
Festival intended to spark STEM interest
Read more at the Mining Gazette, by Meghan Marquardt (subscription required).