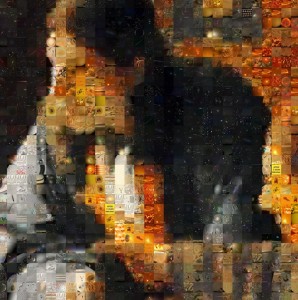 Astronomy Picture of the Day (APOD) was launched this day in 1995. The massively followed online site is maintained by APOD co-founders Robert Nemiroff and Jerry Bonnell.
The 20th anniversary APOD image is a digital re-pixelation of a Vermeer using over 5,000 APOD images that have been featured on the site.
Nemiroff and Bonnell were interviewed by The Verge.
20 years of space photos: an oral history of Astronomy Picture of the Day
Exploring the cosmos one day at a time
APOD launched on June 16, 1995. In advance of its milestone birthday, I spoke on the phone with the two guys who have run the site by hand for two decades, a seemingly unfathomable task in the age of ephemeral content. How do they do it? A combination of Microsoft Word, a fiery passion for astrophotography, and lots and lots of emails.
So where did the idea originally come from?
Robert Nemiroff: Jerry Bonnell and I shared an office at NASA Goddard Space Flight Center, and we were both — we're still — active researchers. But the web was growing up, and so we brainstormed to try to figure out how we could contribute to this web. One idea, we thought, was maybe we can make lots of money, and buy a Hawaiian island or something. But that never worked out. [Laughs.]