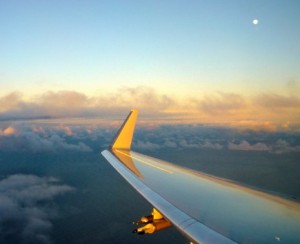 October 1, 2015—
Watching the clouds go by, swirls of white puff up and melt away. The changes mirror mixing within the clouds as drier air mingles with water-saturated air. New research led by Michigan Technological University with support from the National Center for Atmospheric Research (NCAR) and the Max Planck Institute for Chemistry, Mainz University, analyzes this mixing with holographic imaging and an airborne laboratory.
This new way of seeing clouds—and the unusual mixing behavior observed in them—is the focus of the team's study, published in Science this week. Sharp boundaries form as dry air completely evaporates some water drops and leaves others unscathed. The findings will influence models that help predict weather and climate change.
Clouds
Raymond Shaw, a professor of physics at Michigan Tech, looks at the smallest part of clouds: droplets. To understand groups of droplets, Shaw and the NCAR team flew airplanes through fluffy, cottonball cumulus clouds in Wyoming and Colorado. Aboard the plane, the team took detailed 3-D images with an instrument called the Holographic Detector for Clouds (HOLODEC—yes, like Star Trek's "holodeck"). These particular clouds were only made up of liquid water, and the size of those drops is a key part of cloud formation and mixing.
Read more and watch the video at Michigan Tech News, by Allison Mills.
What's At The Edge Of A Cloud?
Scientists have just made a breakthrough in understanding how clouds interact with the surrounding air by studying some of the most boring clouds you can imagine in unprecedented detail.
"If you ask a child to draw a cloud they would draw a white puffy cloud floating in the air all by itself — and that's the kind of cloud we were looking at," says Raymond Shaw, an atmospheric scientist at Michigan Technological University.
Read more and listen to the "All Things Considered" podcast at NPR News, Minnesota Public Radio, by Nell Greenfieldboyce.