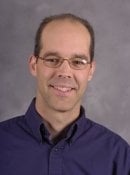 Congratulations to Raymond Shaw (Atmospheric Sciences, Physics) for winning the 2016 Research Award.
In the words of Ravi Pandey, chair of the Department of Physics, Shaw is "widely recognized in the national and international community of atmospheric scientists investigating cloud microphysical processes."
His research is both detailed and big—from the minutiae of raindrops to understanding the patterns of cloud formation. As part of this research, he collaborates with the National Center for Atmospheric Research (NCAR) to lead a team of scientists to conduct holographic imaging of cloud droplets from an airplane laboratory. The research was published in Science last fall and was the subject of a Michigan Tech Research Magazine story.
"The unifying aspect of my research is the atmosphere," Shaw says, adding that the process of research inspires him. "It's like working on an incredibly diverse set of intertwined and nested puzzles. Every now and then a burst of insight allows us to solve a part of one of them."
Shaw is also recognized for his teaching and says that teaching is another aspect of research. "Students learn at a deeper level when they dig into a research problem," he explains.
"The advisor-grad student relationship is the closest thing I know to an apprenticeship, where the grad student masters a craft by working side by side with a mentor."
He considers Alex Kostinski (Physics) his own mentor who has helped him on Michigan Tech's campus from day one. Along with Pandey's support and the insight from his students, Shaw says, "Perhaps it sounds quaint, but I do feel like being recognized with the MTU research award is a larger recognition of the colleagues and students with whom I have worked."