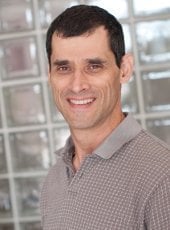 A team led by a physicist from Michigan Tech has discovered a new mineral, named for the region in Tanzania where it comes from.
John Jaszczak knew that something was very unusual about the mineral specimen he was examining under the microscope of a Raman spectrometer in the basement of Fisher Hall.
On a hunch, Jaszczak decided to look into it further. The diagnostic studies with Raman spectrometry and scanning electron microscopy showed a layered structure rich in molybdenum, lead and sulfur that may be a new mineral. Now, Jaszczak and the team he pulled together can confirm that gut feeling. The tiny, silvery, cylindrical whiskers are indeed a new mineral—merelaniite. The journal Minerals published the team's findings last week.
Detailed chemical and physical analyses of merelaniite—a member of the cylindrite group—revealed a neatly stacked layered structure with sheets rolled in scrolls like tobacco in a cigar. These tiny whiskers, which to the naked eye look like very fine hairs on other larger crystals, have probably been regularly cleaned off their host rocks containing other more recognizable minerals that occur at the famous gem mines near Merelani, Tanzania.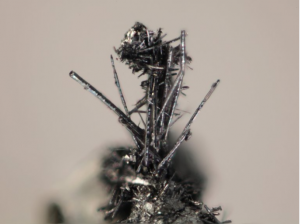 "Minerals have a natural wow factor, and while we use many of them daily without thinking twice, some specimens are truly art," Jaszczak says, adding that minerals like the gems tanzanite (a blue/purple variety of zoisite) and tsavorite (a green variety of grossular garnet), which come from the same mines as merelaniite, can be more eye-catching. But it doesn't negate the value of less showy minerals.