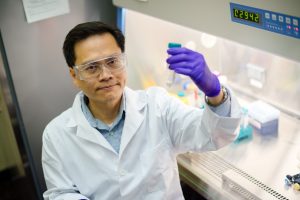 Yoke Khin Yap, professor of physics, has won the 2018 Research Award.
It's a story well ingrained in our collective consciousness—the tale of the scientist laboring long hours for months or even years in dogged pursuit of answers. It's a story we like to tell because it assures us someday our hard work will pay off. And in Yoke Khin Yap's case, it certainly has.
The professor of physics has pursued a research path that embodies this story of science, taking an idea about certain nanomolecules from mere theory to, very soon, commercialized product. He also won the Bhakta Rath Research Award with student Chee Huei Lee in 2011. Yap's contributions to fundamental understanding of boron-carbon-nitrogen nanostructures, the development of transistors without semiconductors and commercialization of high-brightness fluorophores for medical imaging have been honored with his receipt of Michigan Tech's Research Award.
Read the full story on mtu.edu/news.