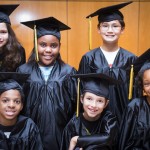 Nearly 490 public colleges and universities, including Michigan Tech, have signed a "Commitment to the Future," pledging to increase the number of baccalaureate degrees by 3.8 million by 2025. That is a 60 percent increase over the number of bachelor's degrees granted now.
The commitment, released at a national news conference on Oct. 2, includes pledges to reduce the time it takes to earn a degree, enhance academic quality and contain the cost per student of a college education. The initiative is led by the Association of Public and Land-grant Universities (APLU) and the American Association of State Colleges and Universities (AASCU).
Read more at Tech Today, by Jennifer Donovan.