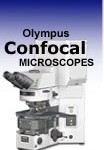 Lanrong Bi and her research group in the Department of Chemistry will be acquiring an Olympus confocal microscope, which uses lasers and high-end optics to take 3D images of cells, tissue and nanomaterials, without destroying the sample.
The scientists decided to do something about it. They began checking into equipment and rallied support from faculty, chairs and administrators, in particular the dean of sciences and arts.
"We are extremely appreciative of Dean Seely for being our strongest support in times of need," Bi wrote in her Christmas missive. "His leadership and extraordinary ability to get things done are an inspiration to us all."
Read more at Tech Today, by Marcia Goodrich.