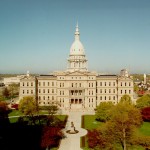 Four graduate students are going to Lansing for Graduate Education Day, Tuesday, Feb. 19. Governor Rick Snyder has declared the week of Feb. 18 as Graduate Education Week, and more than 50 students from universities and colleges across the state will meet with legislators at the Capitol Building in Lansing.
Among the attendees is Melanie Talaga, a PhD candidate in chemistry from Negaunee, who is researching glycobiology and characterizing potential cancer biomarkers.
Read more at Tech Today.