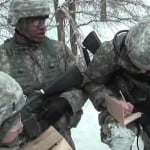 This battalion is called the Artic Warriors, and they're certainly living up to their name as all 50 cadets complete field training in frigid rain and snow.
"We come out on Friday night, do land navigation," explains Army ROTC Cadet Command Sgt. Major Christopher Sherrill. "Then Saturday we do tactical evaluations and Sunday we do rigorous training."
Read more and watch the video at Upper Michigans Source, by Beth Cefalu.