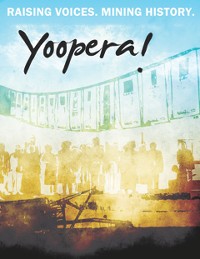 Senior Lecturer Erin Smith, director of the Humanities Digital Media Zone, and alumna Suzanne Jurva '82 have been named the Finlandia Foundation National's Lecturers of the Year for 2014. The filmmaking team produced the documentary, Yoopera!
The film's title combines the word for UP residents–Yoopers–and the Finnish word for opera–ooppera. The documentary tells the story of the collaboration of Finnish and American talent in the making of "Rockland: the Opera," an opera that focuses on events around the shooting deaths of two Finnish miners during a labor strike in the UP mining town of Rockland in 1906. "Rockland: the Opera" premiered in Houghton and in Finland in 2011.
"Our film looks at how our small, remote community was able to commission a major opera and build an audience for it through the efforts of community artist Mary Wright and her Story Line Project," says Smith. "We are just completing a new edit of the film for submission to film festivals and are screening the film at various Finlandia Foundation chapter events around the country this year."
Jurva, an award-winning filmmaker and Michigan native who now lives in Atlanta, directed and produced the documentary. Smith, who teaches digital media and film at Michigan Tech, is its editor.