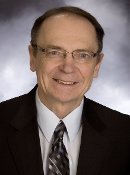 Provost Max Seel has announced that he will be returning to the faculty as soon as a successor is found and can begin work. Seel has served as Michigan Tech's provost since February 2010.
"Max has done an outstanding job as provost during what is arguably a tipping point for Michigan Tech," said President Glenn Mroz. "Well over half the tenured and tenure-track faculty have been hired on his watch, and working with the deans, chairs, exec team, Board of Control and Senate, he's moved the University toward our long-range goal and vision."
Read more at Tech Today, by Jenn Donovan, director of news and media relations.