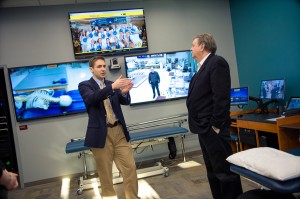 During a recent visit by U.S. Rep. Dan Benishek, a tour of the Advanced Technology and Development Center was arranged to discuss the doctor of physical therapy program coordinated between Michigan Tech and Central Michigan University (CMU). Dr. Jason Carter, Chair of Kinesiology and Integrative Physiology, met with Dan Benishek in person while CMU was represented via videoconference.
Benishek visits Copper Country
Benishek said, "Many of the local hospitals contributed to the creation of this facility so that they would have students training here in Northern Michigan and know what Northern Michigan is like, grow to love the area and be able to have more of those people stay here in Northern Michigan and work here and provide for the care of the people living here."
Read more at ABC 10 News, by Mike Hoey. WATCH THE VIDEO
Benishek pays visit to Michigan Tech
The program shares CMU faculty with Tech and gives undergrads at Tech access to CMU's Doctor of Physical Therapy program.
"We have a cohort of 12 students per year that enroll into that program and graduate with a doctorate in physical therapy from Central Michigan, and hopefully stay here in our Upper Peninsula to become physical therapists." said Jason Carter, Department Chair of Kinesiology and Integrative Physiology.
Read more at Upper Michigan's Source, by Nick Brennan. WATCH THE VIDEO
Benishek Tours U.P.
Tuesday began with a tour of the Doctor of Physical Therapy space at the Advanced Technology Development Center on the campus of Michigan Tech.
Read more and listen to the audio interview at The Keweenaw Report.
Benishek pays a visit
Carter said both universities have given their full support to the program.
"I think it's a great example of universities being more efficient with resources," he said.
During Tuesday's stop, Benishek and Carter talked via videoconference with program head Pete Loubert and professor Tim Zipple.