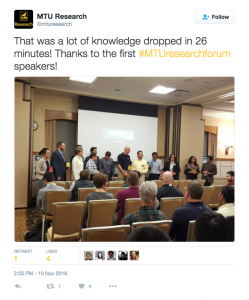 On Thursday, November 10, 2016, several researchers gave two minute presentations for the inaugural TechTalks session of the Michigan Tech Research Forum. Seven of the 13 researchers presented work from CSA disciplines, including the Distinguished Lecture:
Michigan Tech Research Forum events are presented by the Office of the Provost and Vice President for Academic Affairs in coordination with the Office of the Vice President of Research. Additional TechTalks sessions are coming up in Spring 2017. Interested in nominating yourself or others? Use this online form.
Browse the Twitter conversations in "TechTalks 2016: Take One," by Allison Mills.
---
Distinguished Lecture –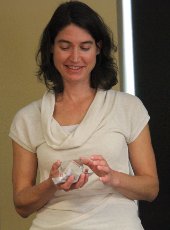 Richelle Winkler gave the inaugural Michigan Tech Research Forum Distinguished Lecture on Thursday, October 13 at 4:00 p.m. in the Memorial Union Alumni Lounge. She discussed Making Research Matter: Democratizing Science and Other Lofty Goals.
Professor Hugh Gorman nominated Winkler, an associate professor of sociology and demography, for "community engaged scholarship" that extends across the Michigan Tech campus. Examples of Winkler's projects include examining the feasibility—social and technical—of using mine water for geothermal heating systems in Calumet and examining the social, economic, and technical aspects of improving recycling in Houghton County. Both projects involve students and community members, and both have real impact in the communities. Winkler also conducts research on the changing demographics of anglers and hunters—and the implications for policy. She presented on this subject at the Department of Biological Sciences last spring.