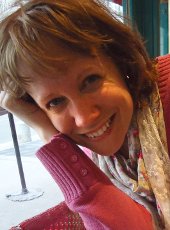 For the Deans' Teaching Showcase, Dean David Hemmer has selected Lisa Gordillo, assistant professor in Visual and Performing Arts (VPA).
Gordillo was nominated by VPA Chair Jared Anderson, who applauded the many interdisciplinary collaborations she has initiated to publicly exhibit student art, especially around campus.
Anderson highlighted a wide variety of projects," ranging from artistic design for windows that would reduce bird-window collisions to carving and casting sculptures based on traditional models in partnership with the Materials Science and Engineering Department."
Gordillo teaches a wide variety of courses including traditional sculpture, contemporary sculpture, art + design, scenic art and illustration, and advanced sculpture. All of these make important contributions to the general education program, the visual art minor and the major in theater and entertainment technology.
Lisa leads a very collaborative environment where students are encouraged to explore creative solutions to problems while creating beautiful art. Her curriculum uses gallery b in the Rozsa galleries as an interactive classroom space where students create art right where it will be installed for public exhibition.—Jared Anderson
In addition, barriletes (patterned after traditional Guatemalan barriletes) made by students in the Traditional Sculpture course are currently displayed in the Rozsa Center lobby.
Gordillo's highly hands-on approach with a focus on exhibition is very popular with students as she was named a finalist for the 2019 Distinguished Teaching Award, her third time as a finalist in the last four years.
Gordillo also connects her teaching with a much broader artistic context in her role as director of the Rozsa Art Galleries.  Recently, the exhibition, Salon!, opened in Gallery A in the Rozsa Center. This show brought together work from more than 30 artists and writers from around the world. Gordillo worked with student painters to transform the gallery into a space that was inspired by the salons of the late 19th century.
Dean Hemmer summarizes Gordillo's impact by saying,  "I am grateful to have colleagues like Lisa. I've had the pleasure of visiting two magnificent shows that she curated in the Rosza Art Gallery. For the many students involved in putting these together, learning extends far beyond the classroom. Faculty like Lisa enliven Tech every day."
Gordillo will be recognized at an end-of-term luncheon with other showcase members and is now eligible for one of three new teaching awards to be given by the William G. Jackson Center for Teaching and Learning this summer recognizing introductory or large class teaching, innovative or outside the classroom teaching methods, or work in curriculum and assessment.