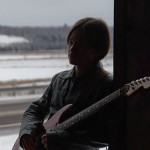 Lindsey Sladek is a First Prize Winner in National Geographic's "The Full Story" contest. The photo competition was for amateurs. Sladek's gallery is entitled "Music."
Sladek came "home" to Tech to take coursework in the Department of Social Sciences for a social studies secondary education certificate; she got her BS in Anthropology from Grand Valley State University in 2008.
Local photographer places in National Geographic contest
She, along with four individual winners, won a Nikon D600 to shoot the full visual story she had pitched to compete for a shot at the grand prize, a trip to the Galapagos Islands with National Geographic Digital Nomad Andrew Evans. She had from Dec. 17 to Jan. 7 to shoot the story, using only the new D600 camera.
Read more at the Mining Gazette, by Stephen Anderson.
Photo Contest: The Full Story
Last fall these five talented amateur photographers each won a new Nikon D600 with which they shot their own FULL STORY.
Read more at National Geographic.