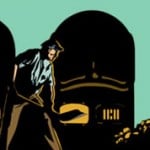 Dr. Larry Lankton, professor emeritus from Michigan Technological University, will discuss "Mine Safety Issues in the 1913 Strike Era" during a special open house at 1:00 p.m. on Saturday, February 9, in conjunction with a special exhibit at Houghton's Carnegie Museum. The event is free and open to the public.
The exhibit, "Tumult and Tragedy: Michigan's 1913-14 Copper Strike," created by the Michigan Tech Archives, is currently on display through February 28 at the Carnegie Museum at the corner of Huron and Montezuma in downtown Houghton. The museum is open to the public Tuesday: 12 noon – 5:00 p.m., Thursday 12 noon – 5:00 p.m., and Saturday 12 noon – 4:00 p.m.
Read more at the Michigan Tech Archives Blog, by Erik Nordberg.
Copper miners strike inspires more exhibits
Employees of the Keweenaw National Historical Park are preparing for the recognition of the 1913-14 copper miners' strike in the Keweenaw, and some of the park's Heritage Site partners, who are creating exhibits to be viewed at the same time, met Thursday at park headquarters to talk of their progress.
Read more at the Mining Gazette, by Kurt Hauglie.