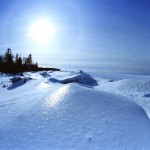 Students and faculty at Michigan Tech collaborated with the North Woods Conservancy on a project to help maintain a small piece of nature for future generations.
Senior Lecturer A. J. Hamlin joined this project because her Engineering Modeling and Design course bridges the needs of the NWC and the goals of Social Sciences Assistant Professor Emma Norman's World Resources and Development course perfectly. "When Emma asked if my first-year students might be interested in building a compostable toilet, I thought it would make a great design project," Hamlin said.
Read more at Michigan Tech News, by Kevin Hodur.