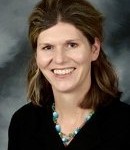 Ten New Faculty Members Hired in SFHI: Water Systems and Future Transportation Systems
Michigan Tech has hired ten new faculty members as part of the University's most recent Strategic Faculty Hiring Initiatives (SFHI), which were conducted in parallel over the last two years. The research done by six of the new hires focuses on the cross-disciplinary theme of water systems. The other four new faculty members conduct research in future transportation systems.
Emma Norman filled an open line in the Department of Social Sciences. She earned her PhD in Geography at the University of British Columbia. Prior to joining Michigan Tech, she was a faculty member at Northwest Indian College (Washington). She works closely with the Great Lakes Research Center and the Program on Water Governance at the University of British Columbia. Her research specialties are transboundary water governance, water security, political and cultural geography, and environmental governance. An already well-published young scholar, she will bring a perspective on water politics and indigenous issues to collaborations with fishery biologists, ecologists and social scientists.
Read more at Tech Today, by the Office of the Provost and Vice President for Academic Affairs.