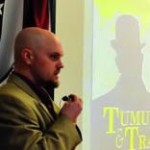 Telling stories of the strike
Presentation describes process of building historical exhibit
Gary Kaunonen, project historian for "Tumult & Tragedy: Michigan's 1913-14 Copper Strike," spoke at the Keweenaw National Historical Park's Fourth Thursday presentation at the park's Calumet Visitor Center.
Kaunonen said besides himself, the creation of the exhibit included former Michigan Technological University archivist Erik Nordberg and graphic designer Mike Stockwell. There was also a nine-member "narrative committee."
Read more at the Mining Gazette, by Kurt Hauglie.