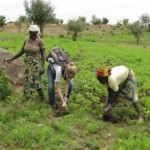 Michigan Tech's Peace Corps Program Ranked Number 1 in the Nation
Michigan Technological University ranks as the top Peace Corps Master's International (PCMI) university nationwide for the eighth consecutive year. With 35 PCMI graduate students currently serving as Peace Corps Volunteers, Michigan Tech has earned the top spot in the 2013 rankings of PCMI and Paul D. Coverdell Fellows graduate schools.  Tulane University placed second.
"Students in our PCMI programs experience a truly interdisciplinary curriculum at Tech that prepares them to take a holistic and culturally-sensitive approach to solving real-world problems," said Kari Henquinet, director of Michigan Tech's PCMI programs. "They then are immersed in a new culture for two years and take on the challenges of language learning, building relationships and working together collaboratively with individuals and groups in their host countries."
Read more at Michigan Tech News, by Jennifer Donovan.
Michigan Tech Peace Corps best in the nation
And for those thinking about joining the Peace Corps, they caution it's the toughest job you'll ever love.
"It's a strong commitment. I mean, a lot of people don't necessarily always make it through," Brian Barbre explained. "It is difficult. There's a lot of family separation, but for anyone who is thinking about Peace Corps, I would say, go get it!"
Read more and watch the video at Upper Michigans Source, by Sarah Blakely.
Michigan Technological University Remains Top Peace Corps Master's International Graduate School Nationwide
"Every year, hundreds of Peace Corps Volunteers make a difference by combining meaningful service with graduate studies through Peace Corps' Master's International and Coverdell Fellows programs," Peace Corps Deputy Director Carrie Hessler-Radelet said. "After completing Peace Corps service, volunteers return to the United States as global citizens, with leadership, cross-cultural understanding, and language and technical skills that position them for success in today's global job market."
Read more at Midwest Peace Corps Volunteers Making a Difference.