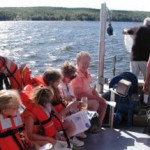 Copper Country Youth Invited to Ride the Waves on Michigan Tech's Agassiz
Copper Country school students in grades 4-12 are being invited to participate in guided explorations of Lake Superior and its tributaries this summer, on Michigan Tech's research vessel Agassiz. The program, called "Ride the Waves with GM," is sponsored by General Motors and Tech's Great Lakes Research Center.
Among the tour leaders is Carol MacLennan, who will join with Noel Urban to lead the exploration "Mine Waste Remediation Tour and Torch Lake Restoration" on June 19, July 3, and July 12, 2013.
Read more at Tech Today.