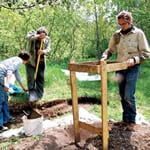 Tech archaeologists hosting free tours of Cliff Mine site
The free tours start this weekend, beginning at 10 a.m. Saturday and Sunday, with the last tour starting at 3:30 p.m. both days. Tours, which leave from the east end of Cliff Drive, about a mile from the town of Phoenix, near the junction of U.S. 41, will also be held June 22-23 and 29-30, the final two weekends of the seven-week field school program.
People are welcome to stop by and ask questions between 10 a.m. and 3:30 p.m. Wednesday through Sunday as well while the teams work on the site.
"It's critical to us that the public be involved in this. We're not doing this just for ourselves," said Sam Sweitz, Michigan Tech associate professor and co-principal investigator and instructor at the site, along with Tim Scarlett. "Yes, we want to train students so they can go on and be good archeologists, but that idea of sharing this site and sharing the knowledge that we gain from this site with the public is critical to what we're doing here."
Read more at the Mining Gazette, by Stephen Anderson.
Tech archaeologists hosting free tours of Cliff Mine site
The Michigan Technological University Industrial Archaeology Field School is in its fourth year excavating sites near the Cliff Mine – the first profitable copper mine in the Keweenaw – and students in the program are once again preparing to guide the public on tours of the historic site.
The project has continuity through the leadership of Sweitz and Scarlett, and through several graduate students who have pursued theses and dissertations based off work at the site. Lee Pressley, a Ph.D. student in Tech's industrial heritage and archaeology program – the only such program in the country – for example, is in her second year studying food systems, local farming and consumption patterns at the site.
Read more at the Mining Journal, by Stephen Anderson.