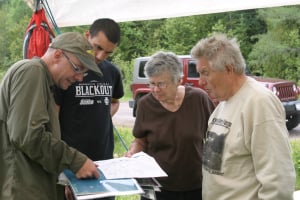 A successful Seafood Fest
Venerable event survives weather
Despite low temperatures and rain, thousands of people came to the Houghton waterfront for their annual taste of lobster, mussels and more at the Houghton Rotary's Seafood Fest.
The 27th annual festival took place Friday and Saturday at the Ray Kestner Waterfront Park.
Chris and Sarah Fraley were at Seafood Fest for the first time. Chris, a Michigan Technological University graduate, was up here for a project at the Cliff Mine.
"We saw the Seafood Fest sign where you drive in, and we said 'Okay,'" Sarah said.
Read more at the Mining Gazette, by Garrett Neese.