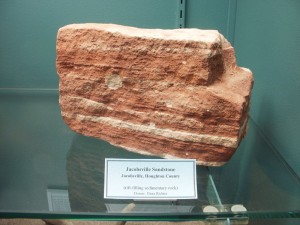 Professor Emeritus Larry Lankton was one of the tour guides for Historic Jacobsville by Boat & Bus on Monday, June 17, 2013. The tour visited the sandstone quarry village Jacobsville on a combination boat/bus tour. The tour also included the Suomi Synod Lutheran chapel (including a short hymn sing), stops at the historic cemetery, sandstone quarries and lighthouse.
Tour guides were author Larry Lankton, Frank Fiala, retired Superintendent of Keweenaw National Historical Park, and Jeremiah Mason, Archivist/Historian at Keweenaw National Historical Park, as well as Jacobsville community members.
Learn more about FinnFest 2013 and the event schedule.
The Finns Are Here and Tech is Key
We've heard about it for three years–FinnFest in the Keweenaw–and it's finally arrived. Michigan Tech is one of the main venues, and everybody has been pitching in to help, according to Mike Abbott, director of GLRC operations.
Some other interesting events include a combination boat trip/history tour to Jacobsville with Professor Emeritus Larry Lankton (SS). There will also be a business forum to attract businesses to the Keweenaw and an education forum.
Read more at Tech Today.
National Park Service at FinnFest
The National Park Service at Keweenaw National Historical Park will be busy during FinnFest USA 2013 welcoming visitors at the Calumet Visitor Center as well as the Tori at the Student Development Complex on the campus of Michigan Tech.
The Italian Hall Ceremony will commence at 2 p.m. with a brief talk by noted author and historian Dr. Larry Lankton.
Read more at the Mining Gazette.