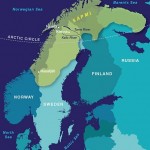 Mining in Northern Climes: Whose Decision is it?
A Michigan Technological University researcher is looking at the Sápmi region of Scandinavia and the possible impacts of new iron mines on the human and reindeer populations, in addition to ecological concerns. – See more at: http://www.mtu.edu/news/stories/2013/june/story92219.html#sthash.c2TWvP6l.dpuf
"Local communities feel that they need more input into the decisions about the mining and the reindeer," says Nancy Langston, a social sciences professor just ending her nine-month stint in northern Sweden. "Whether it is the Sámi (the indigenous people of northern Scandinavia who often make their living as reindeer herders), commercial fishermen or people living along the local rivers, they feel that they should have a voice in land use decisions."
Read more at Michigan Tech News, by Dennis Walikainen.