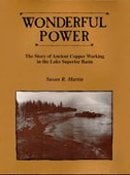 Digging for copper predates European settlers in the Keweenaw by 7,000 years
Susan Martin, retired professor from the Michigan Technological University Department of Social Science, has written a book about the use of copper by ancient people in the Lake Superior region.
She said the title of the book, "Wonderful Power," was a term used by a 19th century Ojibwa man to describe copper.
Jo Urion, Keweenaw National Historical Park historian, said park officials work with tribal members whenever work is planned on properties that are eligible to be listed on the National Register of Historic Places, including archeological sites.
Jessica Koski, mining technical assistant for the Keweenaw Bay Indian Community, said copper has traditionally been an important part of Ojibway/Anishinaabe people of the Keweenaw, and it still is.
Read more at the Mining Gazette, by Kurt Hauglie.