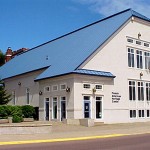 Celebrating 150 years
Events marking Hancock's sesquicentennial year continue
The celebration for the 150th anniversary of Hancock has included talks and presentations on subjects such migration, influential people and significant events, and the next four months will include a continuation of those concepts.
On Oct. 8, Anderson said local historian Larry Lankton will give a talk at the FAHC (Finlandia's Finnish American Heritage Center) on Hancock's contribution to the development of the Portage Lake region.
"We had a lot of industry in the city, too," he said.
There were saw mills and other industrial businesses, many of which supported the copper mines.
Read more at the Mining Gazette, by Kurt Hauglie.