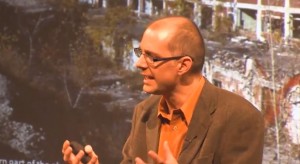 Associate Professor Tim Scarlett (SS) was recognized by the Utah Division of State History for his archeological work with Utah's early pottery. He won one of five awards for outstanding contribution in history. The 2013 awards were presented at the Utah State History Conference earlier this month.
Scarlett "has promoted history and historical archeology in Utah, bringing to light Utah's unique early pottery," the Division of State History said in a news release about the awards. "His studies, excavations and publications have brought Utah pottery to an international audience. His work led to the first formal exhibition of early-pioneer ceramics and pottery at the Frontier Homestead Museum in Cedar City, Utah. He involves the public in innovative ways in discovery and has had an incalculable influence in training students to continue the work."
The organization also presented awards for articles and books about Utah history.
From Tech Today.