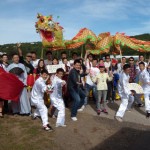 As the representatives of some sixty nations were lining up in Hancock for the Parade of Nations, the sun came out and it was starting to warm up.
Nearby, Social Sciences Professor Mary Durfee was gathered with a group of students from Malta. They are attempting to create the first international chapter of MindTrekkers, that fantastic traveling science demonstration that has enthralled school kids around the Midwest and in DC.
Read more at Here, There, and Everywhere in TechAlum Newsletter, by Dennis Walikainen.