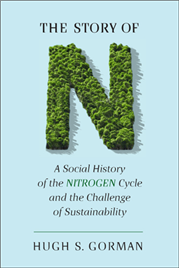 The Friends of the Van Pelt and Opie Library invite the campus and community to hear Professor Hugh Gorman (SS) speak about his new book, "The Story of N: A Social History of the Nitrogen Cycle and the Challenge of Sustainability," at the Friends annual meeting.
The presentation and (very short) meeting will be Thursday, Oct. 24 in the East Reading Room of the van Pelt and Opie Library, 4:30-6 p.m.
The Friends plan the Annual Book Sale (mark your calendars for April 1 and 2), and other events in support of the library's mission. To get involved or learn more, contact the chairman, Amy Hughes (alhughes@mtu.edu).
From Tech Today.