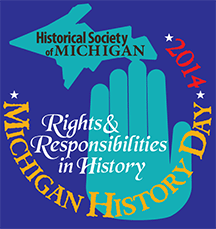 Almost a hundred elementary, middle and high school students will compete at the District 1 regional event for Michigan History Day on Saturday, March 1, from 9 a.m. to 2 p.m., at Michigan Tech in the MUB. Finalists in the youth, junior and senior divisions will move on to the state contest on April 26 at Saline Middle School.
Michigan History Day is an educational program of the Historical Society of Michigan and offers a fascinating opportunity to move social science beyond routine learning. Students perform research on an individually chosen topic. They then present their work through the disciplines of writing, art, literature, music, drama and/or visual communications.
"We are expecting a lot of great entries this year," said Tamara Barnes, Michigan History Day state coordinator. "The students applied this year's theme—Rights and Responsibilities in History—to create a variety of performances, exhibits, papers, websites and documentaries. We're excited to see what topics in history come out of this year's competition."
Participants from District 1 include students from Houghton-Portage Township Schools, Hancock Public Schools, Lake Linden, Chassell, and Dollar Bay. The public is invited to attend the event. The District 1 competition is sponsored by Michigan Tech.
From Tech Today.
Sponsors
The MHD District 1 coordinators, John Robins and Steven Walton, would like to thank the generous sponsorship of the Dept. of Social Sciences (MTU), the University Archives and Historical Collections (MTU), and the Quincy Mine Hoist Association. IN addition, we would like to thank the two dozen volunteers who will be helping judge, staff tables, and make sure the A/V is operating properly.