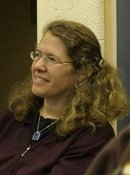 Susanna Peters, a lecturer in law and society in Michigan Tech's Department of Social Sciences, has been appointed the University's new ombuds officer. Her appointment takes effect on April 15.
The ombuds officer provides informal conflict mediation services for faculty, staff and students, to help them resolve conflicts fairly and informally before initiating any formal grievance procedure. The Ombuds Office operates independently and confidentially.
Starting April 15, faculty, students and staff who would like to contact the Ombuds Office can email speters@mtu.edu or call at 7-2391 to set up an appointment.