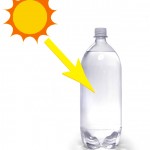 Richelle Winkler (SS) and Joshua Pearce (MSE/ECE) coauthored "Evaluating the Geographic Viability of the Solar Water Disinfection (SODIS) Method by Decreasing Turbidity with NaCl: A Case Study of South Sudan," published in the journal Applied Clay Science.
Globally, about one billion people don't have access to clean drinking water.  One cheap and easy method of cleaning water for consumption is to put it into plastic water bottles and set it in the sun (SODIS), but this method doesn't work when the water is muddy.  Pearce and his graduate students found that by adding simple table salt to water muddied with clay, the clay would settle the water enough to allow the SODIS method to work. Winkler worked with a graduate student at Princeton University on demographic analysis of the number of people who could potentially benefit from this salt+SODIS approach in Africa. The demographic team used a geographic information system (GIS) to identify geographic regions with the appropriate soil type, then overlaid that data with population estimates. They found that over a million people in South Sudan, a country where access to clean water is limited, could potentially benefit from this method.
Read the full article here.