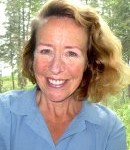 Congratulations to Professor Nancy Langston of the Department of Social Sciences, who will receive an honorary doctorate from 
Umeå University 
in Sweden next week.
Umeå University is one of Sweden's leading universities, and the honorary doctorate is its highest honor. Langston will receive the degree of doctor honoris causa in recognition for her work on environmental history, as well as her close collaboration with faculty at the University of Umeå. In 2012-2013, Langston served as King's Professor at Umeå University. An article about her research in Sweden was published in Tech's Research Magazine recently: http://www.mtu.edu/research/archives/magazine/2014/stories/pay-attention/
Langston has published three award-winning books and served as President of the American Society of Environmental History and Editor of Environmental History (the leading journal in the field). She has been the receipient of honors and award from the National Science Foundation, the American Council of Learned Societies, the King of Sweden, the American Philosophical Society, and the National Humanities Center.
The ceremony will take place on October 18, 2014 in Sweden.