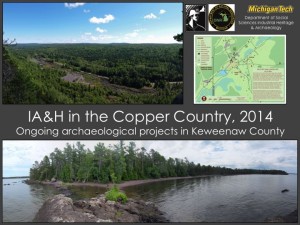 12:00 noon on Friday November 7 in AOB 201.  Sean Gohman, PhD candidate, Eric Pomber, MS student, and Adrian Blake, MS student will present on"Industrial Heritage and Archaeology in the Copper Country, 2014″.

Abstract:  Join Industrial Heritage and Archaeology students Sean Gohman, Eric Pomber, and Adrian Blake as they discuss their involvement in two field projects undertaken this summer in Keweenaw County. In May and June, Gohman, Pomber, and Blake continued an ongoing mapping project at the Cliff mine, with a new series of interpretive maps the result. These maps document the rise and fall of an historic mining landscape currently the focus of environmental remediation. These maps are evidence of the evolving nature of mining's impact on the land, as well as speak to the decisions of mining companies as they tackle illusive mineral deposits and accommodate the domestic needs of their workforce.
In July, the team conducted a Phase II survey of property belonging to Ft. Wilkins, in Copper Harbor. Several features associated with some of the earliest recording mining in the area were documented and in some cases excavated. These features expand the physical bounds of the park's mission, and offer new interpretive possibilities for the park going forward.