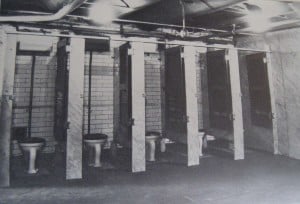 12:00 noon on Friday, November 14th in AOB 201. 
Laura Walikainen Rouleau, Ph.D. will be presenting on "Private Spaces in Public Places:  Public Restrooms at the Turn of the Twentieth Century".
Abstract:  At the turn of the twentieth century, urbanization, industrialization, and immigration combined to draw Americans out of the private realm of the home and into public spaces. As more people spent long hours in public, they required spaces to cleanse, relieve, and clothe their bodies. In order to accommodate these bodies in public, several spaces emerged at the boundary of the public and the private.
The public restroom, as an example of these boundary spaces, was a site of confluence for issues of the body, space, and privacy in American society at the turn of the twentieth century. In order to become acceptable, these "public comfort stations" were designed to create a sense of privacy in public. This study interrogates the relationship between the physical and social construction of these sites by examining the materiality of these spaces, the bodies and activities that enlivened them, and the society that shaped them. Public restrooms were segregated by gender and race, and these spaces were "classed" as customers were often required to pay to use them. The design, creation, and regulation of these early restrooms reveal how privacy was experienced and defined at this moment of emergence.