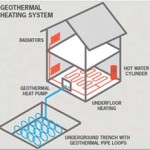 Green Lecture Series:  Issues and Dialog – 7:00 p.m. on Thursday, November 20 at the MTU Forestry Building, Hesterberg Hall.
Dr. Richelle Winkler,  Assistant Professor of Sociology and Demography, Dept. of Social Sciences at Michigan Tech and Jay Meldrum, Michigan Tech's Keweenaw Research Center will be presenting on "Using Mine Water for Geothermal Energy in the Keweenaw"
Billions of gallons of 'warm' water are stored in the mine workings that underlie much of the Keweenaw Peninsula. Michigan
Tech's Keweenaw Research Center uses this water for geothermal heating and cooling. Could expanding mine water geothermal heating projects to local communities provide a sustainable, affordable, and community-centered source of local energy?