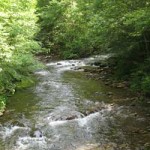 Dr. Kristin Floress, a social scientist with the USDA Forest Service in Evanston, IL is giving a talk in 201 AOB from 3:00 to 4:00 p.m. Monday, March 16 titled "Community Capacity for Watershed Management."
Her visit co-sponsored by the Visiting Women & Minority Lecturer/Scholar Series (VWMLS) which is funded by a grant to the Office of Institutional Equity from the State of Michigan's King-Chavez-Parks Initiative, the Center for Water and Society, and the Social Sciences Department.
Abstract: An individual's ability to engage in actions that are protective of water resources is driven by a variety of factors at the individual and community scale.   This presentation explores several cases of watershed and lake management in Wisconsin using the community capacity for watershed management framework (Davenport and Seekamp, 2013).  Individual indicators and governance principles are assessed and used to provide direction for designing effective water programs.