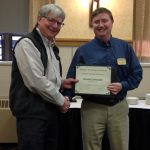 This week, the Deans' Teaching Showcase returns to the College of Sciences and Arts, where Dean Bruce Seely has selected Don Lafreniere, an assistant professor in the Social Sciences Department.
Seely says that he nominated Lafreniere partly to highlight the area in which he is teaching — geographic information systems (GIS).
According to Seely, "Much of Don's teaching helps students grasp the importance of geography generally and geospatial thinking specifically. This is what he cares about, and his enthusiasm and energy show in every discussion on this topic."
But Seely says his primary reason for recognizing Lafreniere in this year's Teaching Showcase comes back to his approach to student learning.
"In all my classes," Lafreniere notes, "I strive to provide an environment in which students are comfortable questioning themselves and each other while facing the discomfort of challenging their accepted viewpoints. In small classes, I arrange the students in a circle, allowing for more intimate discussions and debates. I sit with my students, asking provocative questions and telling stories that push them to question their assumptions and inquire about how things are interconnected."
Seely was intrigued by Lafreniere's way of introducing the topic of homelessness. After assembling in the classroom, he told students to take off their coats and "follow me outside on a February morning. We stand in the snow, shivering, as I briefly outline the origins of homelessness in cities. We return to the warmth of the classroom to watch a short documentary in which homeless people share their experiences, then conclude with a discussion of the complexities of this social issue."
This approach surely makes homelessness a more real situation to college students. For similar reasons, Lafreniere creates field experiences in every class, such as sending students to local grocery stores to "investigate the origins of fresh produce and to record all the manufacturers of a category of products, such as soup or cereal."
This information informs a required report on how changes in the global food system are observed locally.
Lafreniere's classroom effort also recognizes that "today's university students live technologically-saturated lives." Therefore he "embraces the use of technology to engage them."
Lafreniere uses both Mentimeter and Poll Everywhere, two response systems that allows students to answer questions via their laptops or cellphones. The results are displayed in real-time on a PowerPoint slide and help gauge student comprehension.
Frequently Lafreniere brings online digital exhibits into courses. For example, he "illustrated the process of socially-constructed places with PhilaPlace, an interactive archive which allows residents of Philadelphia to map their own stories of places in their neighborhood."
While Lafreniere spends much of his time helping students master the computer-based technology of GIS, he presents that tool as only a technique for continuing to question themselves about the natural and built environment that surrounds them.  His enthusiasm for that task is why he is part of this year's Deans Teaching Showcase.
Lafreniere will be recognized at an end-of-term luncheon with 11 other showcase members, and is now eligible for one of three new teaching awards to be given by the William G. Jackson Center for Teaching and Learning this summer recognizing introductory or large-class teaching, innovative or outside-the-classroom  teaching methods, or work in curriculum and assessment.