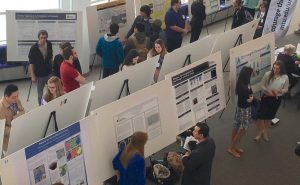 Joe Iwanicki – Anthropology – Social Sciences
Iwanicki's research, The Archaeology of Trade: A Study of a Twentieth Century Logging Camp, was presented at Michigan Tech's 2017 Undergraduate Research Symposium this past week. With the assistance of LouAnn Wurst, Iwanicki looked at archaeological data from a 1900's lumber camp in the Munising Michigan area called Coalwood. The data consists of artifacts that allow for investigation of trade and commodity flows. The archaeological record is combined with GIS to map and recreate the trade networks of the past, something rarely explored by archaeologists.
The Undergraduate Research Symposium highlights the amazing cutting-edge research being conducted on Michigan Tech's campus by some of our best and brightest undergraduate students.
The students showcasing their work today have spent a significant portion of the past year working alongside Michigan Tech faculty and graduate students to explore, discover and create new knowledge. They've spent long hours in the lab or out in the field designing experiments, gathering data, creating new models and testing hypotheses. They've applied their classroom knowledge in new and sometimes unexpected ways, and developed new skills that will propel them forward in their careers.