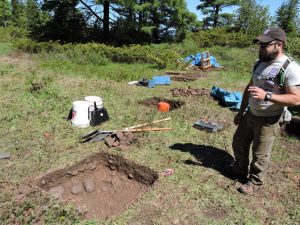 The Department of Social Sciences' 2017 summer industrial archaeological field school in Keweenaw County was featured in a story in The Daily Mining Gazette.
"Part of the goal of it is to train our students in archaeological field work," said Professor LouAnn Wurst, who is leading the school.
At the same time, the school is being conducted in conjunction with the Department of Natural Resources and the state to look at Copper Harbor's range lighthouse keeper's residence, and locate the Astor House, which is believed to have stood behind the house.
Click here to read the full story.